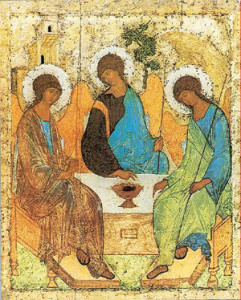 Prayer as an 

opening

 of the mind & heart to God.
"Prayer is the raising of one's mind and heart to God or the requesting of good things from God."   St. John Damascene
Prayer is a covenant relationship, a living relationship between God and you.
"Heart speaks unto Heart"
Jesus invites us to seek and to knock since He himself is the door and the Way. Matthew 7:7
How do we do this?
Through our heart, our hidden centre – according to Scripture it is the heart that prays.
To love God with all your heart Mark 12:33
Did not our hearts burn within us?   Luke 24:32
God's love has been poured into our hearts. Romans 5: 5
"Heart speaks unto Heart"   St John Henry Newman
Read the Catechism of the Catholic Church section 4 on Christian Prayer and  a short catechism on prayer.
Catecheses on Christian prayer by Pope Emeritus Benedict XVI
Listen to Bishop Robert Barron on prayer
Why Do We Pray?
By William A. Barry, SJ
"We pray, then, at our deepest level, because we are drawn by the bonds of love. We pray because we love, and not just for utilitarian purposes."
A Short Course on Prayer
By J.J. O'Leary, SJ
O'Leary explains that prayer begins with reality. Some of the comments and questions are directed specifically to students or teachers, but the full article is relevant to anyone seeking a prayer life that touches the inner core based on an awareness of self.
What Prayer Is
By Thomas H. Green, SJ
This chapter from Green's Opening to God provides a basic description of prayer. Green discusses the effects of semi-Pelagianism on our traditional concepts of prayer and goes on to describe prayer as the opening of our hearts and minds to God.
Distractions in Prayer
By Kevin O'Brien, SJ
O'Brien encourages those who are experiencing distractions in prayer.
Experiences of Boredom or Dryness in Prayer
By Kevin O'Brien, SJ
O'Brien counsels careful discernment of feelings of boredom or dryness in prayer. Like all interior movements, they can tell us something.
From the Dominicans to the Benedictines, the Carmelites to the Franciscans, this podcast series from the Catholic Bishops Conference of England and Wales explores some of these wonderful 'Schools of Prayer'.
There are three main categories for prayer: