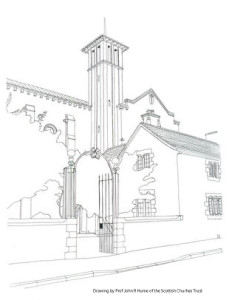 The Property Committee  oversees the fabric of all the church buildings, all of which are A-listed.  Major works projects are put out to tender, while some parishioners volunteer to do smaller jobs requiring only payment for materials.
The Property Committee is responsible for the upkeep of the property; day-to-day maintenance and periodic inspection and testing of the various installed systems.  The Committee members and their assigned responsibilities are as follows:
         Ex officio 
Fr Kevin Douglas
         Administration
John Wastle
         Church and presbytery heating systems
John Smith and Angus MacKellaig
         Fire alarms & emergency lighting systems
Bill Douglas and Archie Cairns
         Miscellaneous minor works   
Bruce Royan
Progress Report on the Works in St Peter's
 The work to remove asbestos from the church basement has been completed.  On Friday (24th July ), the church and its surrounds will be cleared of equipment and other materials, and an independent specialist contractor will carry out a statutory series of visual checks and air safety tests throughout the basement.
As previously reported, the works to install the new heating system will start on Monday 17 August and are scheduled to run until Friday 9 October.
In the meantime, all the church buildings will remain closed from Monday to Friday.  The main church will be opened for Masses on Saturday and Sunday with effect from 25 July.
NB There will be no access to the toilets, parish room or sacristy.  Please observe the safety signs and tape
markings and wear a mask and gloves while in the church.
Entry to the church courtyard is strictly forbidden except:
to allow Fr Kevin and Fr Brown access to their respective front doors
to enable Royal Mail and other essential deliveries to be made
by appointment made in advance with Fr Kevin.
These plans and arrangements are subject to developing circumstances and any changes will be announced through the parish newsletter and website.
In the meantime, day-to-day oversight of the works is being handled for the parish by John Wastle.
Contact: John Wastle     Tel: 0131 447 3442
Email: wastles@btinternet.com
Reports
St Peter's – Schedule of Works 2019 (PDF)
St Peter's  Report of Works Jan – June 2019 (PDF)
St Peter's  Report of Works Completed 2018 (PDF)