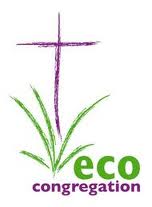 St Peter's is a registered Eco Congregation.
In his encyclical,
"Laudato Si", Pope Francis
speaks extensively about the devastating effects of climate change on the people and the planet. He says climate change is real, urgent and it must be tackled. He asks us to remember that the climate is "a common good, belonging to all and meant for all".
Mission Statement:
We are committed to considering and implementing initiatives to show that we care for the world that God has created. Central to this is reviewing how our way of living as a parish, and as individuals, may be affecting both climate change and the use of the world's resources. By caring for our environment and making choices about how we live, we will help the world's poorest people _ those most at risk from unpredictable changes in the weather they depend on.
Our aim is to engage the entire parish in spreading the work of eco-improvement in our homes and parish and to the world beyond at local, national and international levels.
To achieve this we work closely with other groups in the parish, with local schools, businesses and institutions and with other Eco-Parishes and organisations.
Examples of our work past and present:
Calculating the parish carbon footprint
Planting the church grounds
Linking work with other parishes
Talks, lectures and competitions
Exchanging ideas with a poor parish in India.
Working with St Peter's pupils in the school garden
Social events
Photographic exhibitions celebrating the planet using parish talent
Lobbying government and big business
Involving local business in eco ventures
Recycling advice; eco tips and wrinkles
Bird box/insect hotel scheme
Unwanted gift recycling scheme
St Peter's became an Eco-Parish in 2014 and has since achieved enhanced status.
The Eco-Group welcomes new members, young or old. No experience is necessary: the only qualification is a desire to safeguard our planet as God intended.
Contact: Shelagh McGhee 0131 447 8398