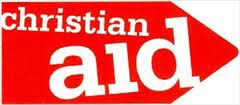 Christian Aid is an organisation that insists that the world can and must be changed to one where everyone can live a full life free from poverty. It works for change for all regardless of race or creed providing urgent practical and effective assistance where needed, tackling the effects of poverty as well as its root causes.
Inter faith dialogue is important to Christian Aid.  St Peter's has two representative on the local committee of churches which  coordinates the house  to house collection during Christian Aid week in May organises a varied programme of other fund raising events.  All these events are published in the parish newsletter.
The
Christian Aid Book Sale, Holy Corner
,  is held during Christian Aid Week, every May. In 2019 this event raised over £17,500. Preparation takes place throughout the year and seven parishioners from St. Peter's assisted in a variety of roles.
We are part of a friendly team, and if you like books, you'll enjoy joining us! Liz Brown would be very happy to  hear from you on the numbers below, if you want to volunteer or if you would like her to collect donations of books.
Liz Brown 0131 447 7286 or 07581562458
christianaid@stpetersrcchurchedinburgh.org.uk