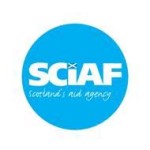 This Sunday, the 4th Sunday of Lent, is the day generous Catholics across Scotland pray for the people we serve and hold collections in their parishes for our WEE BOX BIG CHANGE appeal. These donations provide almost half of all the money we raise in Lent. We urge parishioners to support this appeal, even though they cannot attend Mass.
These are tough times for everyone, and as a charity working with some of the world's poorest and most vulnerable people, we need your support more than ever right now.
With any global crisis such as the coronavirus, our neighbours in the poorest parts of the world are hit hardest. There are 4,000 women in the Democratic Republic of Congo who are counting on us to help them recover from horrific sexual violence. Because of the coronavirus we may not raise the money they need.
At this difficult time, please pray for our sisters in the Democratic Republic of Congo. Hear their cry and respond in love and please encourage your parishioners to give whatever they are able to this Sunday.
Donate to our WEE BOX BIG CHANGE appeal on our website www.sciaf.org.uk, or by calling 0141 354 5555 or by sending a cheque to FREEPOST SCIAF.
Our office remains operational despite staff working from home and will be happy to take donations over the phone. If you are bringing money into the office, please do call ahead to check that it is open.
SCIAF … Make your gifts matter
SCIAF's Real Gifts make great presents for friends and family while helping people in poverty to build a brighter future.
See the new catalogue for gifts to suit every budget, from everyday items like school books and chickens to some unusual
but life-changing presents like a mobile medical centre or a birth certificate.
Visit www.sciaf.org.uk/real-gifts-store or call 0141 354 5555 to find out more.
Contact:
Anne-Marie Douglas 0131 445 4337
sciaf@stpetersrcchurchedinburgh.org.uk