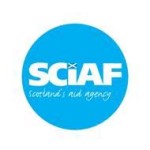 WEE BOX, BIG CHANGE Every Lent, the time between Ash Wednesday and Easter, thousands of Scots save money in their SCIAF WEE BOX to help give a hand up to people living in poverty. By giving up a treat and putting what you save into a WEE BOX you can make a lasting difference to families in some of the world's poorest countries.
This year's SCIAF Lent appeal focuses on South Sudan where a generation of children with disabilities are locked out of an education and trapped in a cycle of poverty.
When a crisis comes, be it conflict, famine or even the coronavirus, it's vulnerable children who suffer most. They may not be able to go to school or, later on, to work and earn a living. They often face stigma and exclusion.
Please give to SCIAF this Lent and help change lives. You can pick up your WEE BOX from the box situated by the door of St Peter's Church. If possible please take one. £1 = £2!!
Alternatively contact Anne-Marie Douglas (445 4337) or email her at amdhillaire@aol.com and she will arrange to get one to you. Your online WEE BOX
Many of us aren't using cash as much these days, so we've created a way to fill up your WEE BOX online. 
SCIAF … Make your gifts matter
Everyone is wondering what kind of Christmas we will have this year.  One thing is sure – it will be different.
Perhaps we'll be unable to have big family dinners with copious amounts of food, no office parties and nights out etc etc.  So why not use some of the money saved to make someone's life different?  Someone who has never had a huge meals and has never experienced a night out.
A goat £32: a coronavirus Emergency Pack £11: a Vegetable Garden £25: Chickens £16: a Water Filter £37: a Pair of Pigs £70: Shelter for a Family £32: Warm Blankets £18: Train a Health Worker £132: Water for a Village £1,088.
Order your gift online at www.sciaf.org.uk or by phone on 0141 354 5555.
Contact:
Anne-Marie Douglas 0131 445 4337
sciaf@stpetersrcchurchedinburgh.org.uk