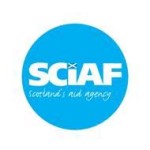 The people of Afghanistan need our help. SCIAF has launched an emergency appeal for those affected by the crisis. Through the global Caritas Internationalis network, they are helping ensure those in need have access to food, clean water, sanitation and hygiene kits to help prevent the spread of COVID-19. Please keep the people of Afghanistan in your thoughts and prayers, and consider reaching out in compassion and donating online at:
www.sciaf.org.uk/get-involved/appeals/682-afghan-crisis-appeal
DONATE TO SCIAF:  Help is urgently needed in Ukraine.   
SCIAF's Lenten appeal focuses on the Climate Emergency and the devastating hunger this causes for families in the world's poorest
places, including countries such as Malawi.  Donations will help families to grow more food, heal their local environment, and provide access to money to afford essential such as school fees and healthcare.
For more information please visit sciaf.org.uk/weebox
or call 0141 354 5555.
Everyone is wondering what kind of Christmas we will have this year.  One thing is sure – it will be different.
Perhaps we'll be unable to have big family dinners with copious amounts of food, no office parties and nights out etc etc.  So why not use some of the money saved to make someone's life different?  Someone who has never had a huge meals and has never experienced a night out.
A goat £32: a coronavirus Emergency Pack £11: a Vegetable Garden £25: Chickens £16: a Water Filter £37: a Pair of Pigs £70: Shelter for a Family £32: Warm Blankets £18: Train a Health Worker £132: Water for a Village £1,088.
Order your gift online at www.sciaf.org.uk or by phone on 0141 354 5555.
Contact:
Anne-Marie Douglas 0131 445 4337
sciaf@stpetersrcchurchedinburgh.org.uk