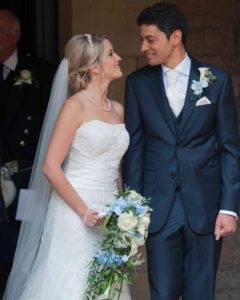 Engaged couples are invited to prepare for marriage through St Peter's Marriage Preparation course. It is  conducted by two marriage catechists and Deacon John Smith.
The day takes approximately four  hours with a lunch break half way through, giving the couples the opportunity to socialise with each other.
The couples receive information on marriage as a Sacrament, the covenant of marriage and the Catholic Church's teaching on marriage and family life in addition to helpful tips on communication within marriage and information on the wedding ceremony itself.
There are many break out groups, giving couples the opportunity to discuss their personal views and to feed these back to the larger group if they wish.
We receive very positive feedback from the couples, who genuinely enjoy "getting down to the basics" of what marriage is all about when they are often caught up in a frenzy of choosing dresses, flowers, photographers etc.
Most couples we see consist of one Catholic and one of another or no religion. The non-Catholics appreciate the opportunity to learn a little more about the Catholic faith and are reassured by the preparation.
Next session
The Archdiocese is running marriage preparation courses on Saturday 17 October and Saturday 14 November, 10.30-4.30pm.  Due to ongoing  Covid-19 restrictions these are likely to take take online using Zoom.  For an application form please contact Irene Furlong, irene.furlong@staned.co.uk, 0131 623 8900, or download the form from the resources tab at
If any couple wishes to take part please contact
Fr Kevin Douglas at 77falconave@gmail.com
St Peter's Parish Room
Contact Marriage Preparation Team
Those wishing to do marriage preparation and be married  in either St.Peter's  or St.Columba's parishes should in the first instance talk with Deacon John Smith after Mass or Fr Douglas.
Parish Policy on Marriages
If you wish to arrange a marriage  the parish now requires a written letter addressed to Fr Douglas stating the following:-
1) the date and time proposed
2) the church: St Peter's or St Columba's
3) a return address that can be either a postal address or  an email address
4) whether this will be a  Nuptial Mass or simple marriage ceremony.
Until the couple have had a reply from Fr Douglas the date is not to be considered confirmed.