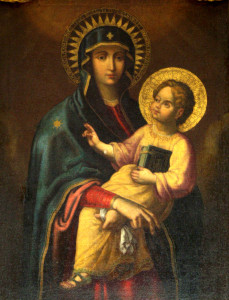 St Peter's Children's Liturgy is open to all children between the ages of about 4 and 10 years. It takes place each Sunday during school term at 11.30 am Mass.
Each week, the children join the Children's Liturgy leaders at the front of the church, immediately after the first hymn and process down the side aisle to take part in their own liturgy in the parish room. They participate in activities such as making the Sign of the Cross, singing the welcome song, saying "the sorry prayer", lighting the candle, listening to the Gospel and taking part in a short discussion about the reading – all at a level which they can easily understand and enjoy.
They will usually do some colouring in, or similar activity which is relevant to the message of the Gospel, and then rejoin their parents in church, processing up the centre aisle after the offertory procession.
The Children's Liturgy team is made up of volunteers from the parish. Each volunteer commits to attending about three times each term (we have at least 2 leaders in attendance each week) and we all find the experience very rewarding and enjoyable.
New volunteers are always welcome.  All leaders must join the PVG Scheme and undergo checking and approval as a volunteer in accordance with the church's guidelines, 'In God's Image' 
If your child would like to attend, please encourage them to join us any Sunday. If you would like any further information, please contact:
Team Co-ordinators:  Aoife Palmer & Ana de Bonrostro
Email: childrensliturgy@stpetersrcchurchedinburgh.org.uk
RESOURCES
Fr Jude Winkler Library Books  – for Children
The LibraryThing  offers 76 works suitable for children, young people and adults written by Fr Jude Winkler covering a very wide range of topics.  Click on items listed below to begin exploring the library.
 St Peter's children's liturgy volunteering role (PDF)