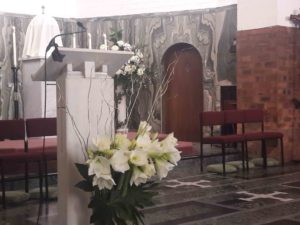 The ministry of Altar Server is currently open to any child who has received their First Holy Communion. There is a rota for serving at Sunday Mass. It is expected that servers will be available to serve most Sundays and at least once every three or four weeks.
Waiting List
A waiting list is held in the Servers' Robing Room (at the emergency exit). Please contact Ivor after Mass, or by phone, to add names to the list.
Training
Training normally takes place on four or five Friday  afternoons  but special arrangements may be made if  necessary.
Those on the waiting list will be advised of training dates some weeks in advance and the dates will be announced in the Parish Newsletter.
Training For New Altar Servers
Training for new altar servers will take place on Fridays after school, starting on Friday 1st May. 
Parents of children who have already received their First Holy Communion (P5) are invited to enter their details on the waiting list that is held in the servers' waiting room. Best time to do this is after Sunday Mass.
Contact
Ivor Clarke 623 4487
Altar serving volunteer role (PDF)